We Make History
Proudly Presented
The 2003
Pride & Prejudice Ball
October 25th, 2003 Phoenix, Arizona
My Fellow Romantics,
Our 2003 Pride & Prejudice Ball was a splendid success, more than living up to our high expectations! I do hope you were able to attend. Many presented splendid examples of Regency fashion. Others attended in tasteful modern attire and a few stray Georgians and Victorians joined in as well. All had polished their manners and the smiles radiating throughout the hall told the story better than words of a brilliant evening for all!
Special guests included Her Majesty, the Queen of Sweden, British Lords & Ladies and officers of the American Army and La Grande Armeé of Napoleon's French Empire.
Enjoy the beautiful pictures. Also read some fine comments from our gracious participants. We are so proud of them and so blessed to enjoy the company of such a fine gathering of good people of all ages and diverse backgrounds.

I look forward with much affection and anticipation to seeing you, my fellow historic enthusiasts at other fine upcoming events and shall remain your devoted friend & servant.

Lord Scott of Scottsdale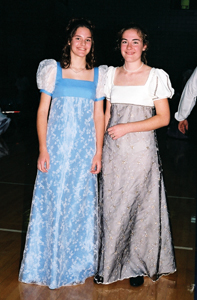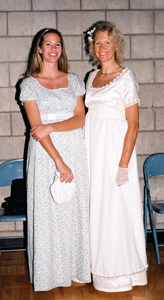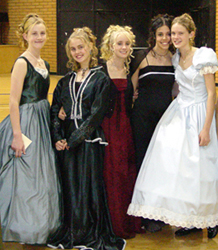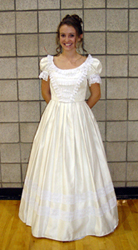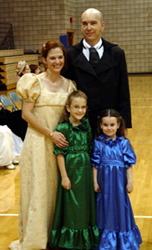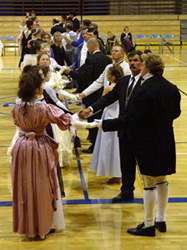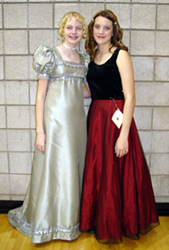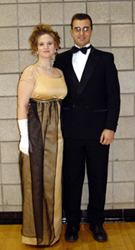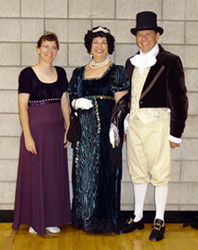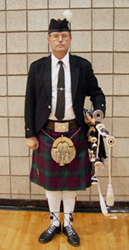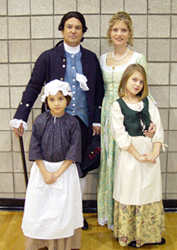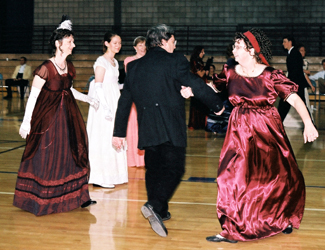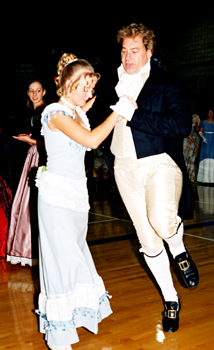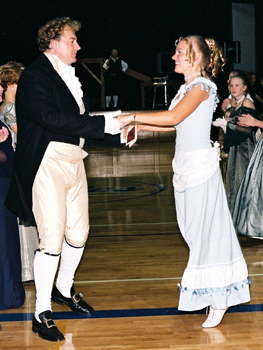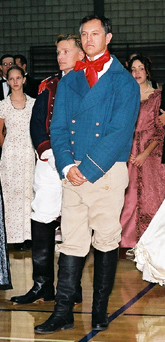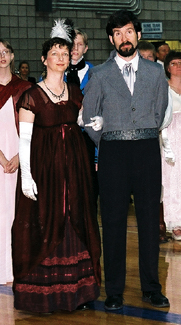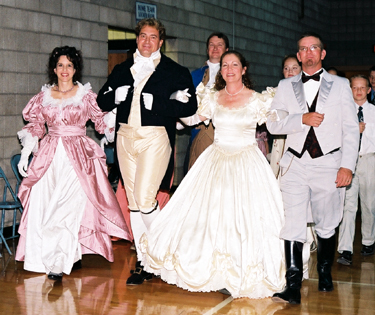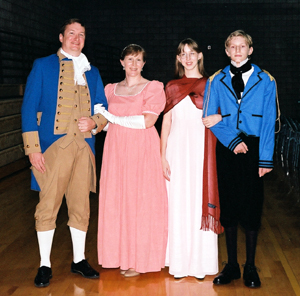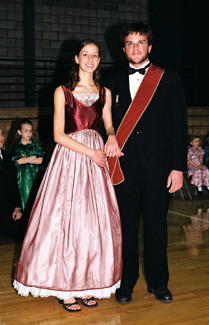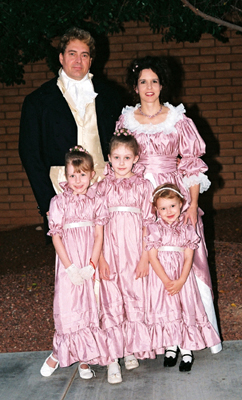 Dear Lord Scott,
Once again we had a ball at the Ball. Everyone in their finest looks, such wonderful music, such polite company, and such pretty ladies and agreeable gentlemen - too seldom are such evenings observed this side of eternity. May I once again extend my warmest thanks. This was my young niece Miss Heather's first Ball and she was very thoroughly thrilled, ten days of delightful anticipation on her part were not disappointed. My lovely bride had begun a gown that she was unable to complete and so the excited anticipation of February's Valentines Ball has begun already. Ever grateful to you Sir, and The LORD and King we both serve,
Mr. Brett S. Glendale, Arizona
Lord Scott,
My compliments again on another wonderful event. Considering the size of last night's crowd the extra space provided by the new venue was well put to use. Misty and I both had a wonderful time and enjoyed the dancing immensely. We are very much looking forward to the Victorian Christmas Ball and Misty has expressed a desire to acquire a Regency era Ball Gown to match the Napoleonic uniform I am working on. I'm glad to see that these events are being promoted among the cultural community in Phoenix. They are certainly among the more worthwhile cultural events in the Valley.
Again, my compliments. I'm looking forward to the American Heritage Weekend.
Troy Ahwatukee, Arizona
Dear Lord and Lady Scott,
On behalf of our family we would like to thank you for the wonderful Ball on Saturday. We thoroughly enjoyed ourselves! The dancing was grand, we met new home school families like ourselves and just seeing the beautiful clothes everyone was wearing was ever so grand. One of the greatest joys, Lord Scott, was meeting your delightful Lady Scott and seeing your three blessed children. Please tell Lady Scott how very much we loved the dresses she made for the event. How she has time for sewing with all of her other duties is something to behold! The atmosphere you have created is very wonderful for Christian families who desire to avoid the average kinds of dancing the world has to offer. Our thanks, once again, and may you be hugely blessed!
Lady Teri Fountain Hills, Arizona
Dear Lord Scott,
Thank you for a memorable evening. The anticipation was worth the wait. Captain S. and I enjoyed meeting new people and the historical dancing was such a treat. Thank you to all who work so hard to make these Balls historically correct!!!!
Yours Truly,
Her Royal Highness Desideria of Sweden and Captain S. Scottsdale, Arizona
Dear Lord Scott,
Thank you for hosting the recent
Price and Prejudice Ball
. My husband and I took our 14-year-old daughter and had a marvelous time! We have been enjoying the works of Jane Austen for some years now and were excited to find we could participate in a Ball. We know our daughter will remember this always. We look forward to attending other
We Make History
events. Thank you again!
Mrs. Patricia C. Queen Creek, Arizona
Dear Lord Scott,
Thank you for a most enjoyable evening. My sisters and I had a great time. We will certainly be joining you at the next ball and are looking forward to another night in the history of our nation.
Your friend in Christ,
Yohanna Phoenix, Arizona
Dear Lord Scott…
We had a wonderful time at the
Pride and Prejudice Ball!
We made many new friends and all of our Daughters in attendance plan to promote
We Make History
events! Thanks again for a wonderful event.
Carolyn, Arizona Society of the Daughters of the American Revolution
Gilbert, Arizona
Dear Lord Scott,
What a delightful time we had at the Ball - our first! Our sore feet could attest to the fun we had all evening long and we truly appreciated the patient instruction for these ballroom first timers. It was wonderful to meet you and we thoroughly enjoyed ourselves. Already planning for the next one,
Karen T. Mesa, Arizona
We had an incredible time at the last Ball! It was great to see so many people there. Laura and I invited a lot of friends, and I think all of them are planning to return to the Christmas Ball! I was talking with my friend Jonathan afterwards, and we were reflecting upon the fact that it is hard to find an event that not only entertains us, but encourages us to behave and live on a different (higher) level. That's what the balls do for us! Thanks again for all the hard work you and your wife do to make such a great time possible for all of us.
Mike H. Glendale, Arizona