2007
Victorian Christmas Ball Memories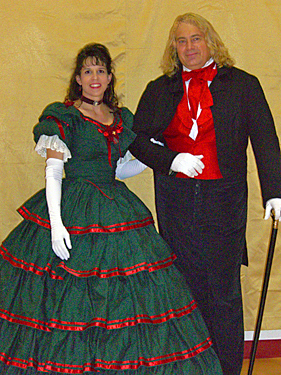 Dear friends,
Can you believe it? Our 7th annual Victorian Christmas Ball has come and gone; has passed into history. But though the dancing ended at midnight … and the fellowship of the evening perhaps some two hours later … may it be that the joy we have been blessed to experience together will remain in each heart, grow and bring forth much good fruit in the months and years to come.
What a wonderful evening we had! The caroling seemed – angelic. So many friends were present it was impossible to spend a great deal of time with each. But sometimes the flash of a friendly smile and a quick but sincere Christmas greeting as a turn was made while progressing down a dance set was enough to warm the heart and speak volumes as to who we are and why we assemble together.
And the We Make History Family does assemble from many places! Joyful persons from at least six counties of Arizona were present as were guests from out of state. Portions of the WMH Family arrived from many expected locales such as Flagstaff, Prescott, Tucson and the various suburbs of the north and east parts of the Valley. But we also rejoiced in welcoming a new tribe to the WMH Family as several clans arrived from the West Valley "representing" (as they say in those parts) Tolleson, Avondale, Goodyear, Litchfield Park and Tonopah! Welcome Westside! And Merry Christmas!
And we even learned something from one of our new Westside friends as a young lady from Litchfield Park regaled us with tales of domesticated hedgehogs being kept in Victorian era basements. Ahhhh… a moment of Christmas cheer!
And may much more cheer be forthcoming!
Our annual Prescott Pizza Party, musical concerts, the 1st Virginia Christmas Party and several birthday celebrations are all on the calendar as are charity events and visits to church productions and "living nativity" programs which feature members of the WMH Family. And of course, there is preparation for Her Majesty's Ball in January!
The message? The Christmas season comes once per year. Enjoy, fellowship, give, bless and offer thanks from a grateful heart overflowing with the joys of the season.
"And there were in the same country shepherds abiding in the field, keeping watch over their flock by night. And, lo, the angel of the Lord came upon them, and the glory of the Lord shone round about them: and they were sore afraid. And the angel said unto them, Fear not: for, behold, I bring you good tidings of great joy, which shall be to all people. For unto you is born this day in the city of David a Saviour, which is Christ the Lord. And this shall be a sign unto you; Ye shall find the babe wrapped in swaddling clothes, lying in a manger. And suddenly there was with the angel a multitude of the heavenly host praising God, and saying, Glory to God in the highest, and on earth peace, good will toward men. And it came to pass, as the angels were gone away from them into heaven, the shepherds said one to another, Let us now go even unto Bethlehem, and see this thing which is come to pass, which the Lord hath made known unto us. And they came with haste, and found Mary, and Joseph, and the babe lying in a manger. And when they had seen it, they made known abroad the saying which was told them concerning this child. And all they that heard it wondered at those things which were told them by the shepherds. But Mary kept all these things, and pondered them in her heart. And the shepherds returned, glorifying and praising God for all the things that they had heard and seen, as it was told unto them."
Rejoice! Our Saviour is born!
Your humble servant
Wishing you and yours
A very, very Merry Christmas…
Lord Scott
---------------------------------------------------
Dear Lord and Lady Scott,

What a marvelous time we had at the Victorian Ball! By the time we were ready to rest our head for the night we could not stop talking about the beautiful people we had met that evening. The beauty inside was equally as magnificent as the outward beauty. My wife cannot get the swirling dresses out of her mind or ever understand how Balls could have ever gone out of fashion. For me, this was the most fun I have had in a very long time. By night's end, my face hurt from smiling and laughing so much.

This festive event indeed will become a tradition for our family. Thank you Lord and Lady Scott and the We Make History family for life long memories! We greatly look forward to attending yet another Ball.

Sincerely in Christ,

Bill, Tonya, and Brionna P.
Tonopah, Arizona
-----------------------------------------------------------------------------------------
Dear Lord Scott,

I thank you once again for hosting a delightful evening of dance and merriment in celebration of our Lord's birth. It was the distinct pleasure of my friends and I to join so jolly a group in lively song and dance. One can hardly conceive of a more worthy occasion for traveling across the countryside in our finest formal dress than to join at our destination with the dukes and duchesses, generals and gentlemen, and lords and ladies of her majesty's era (not to mention those young lads of the First Virginia). I applaud the effort with which you once again brought together so fine a group of dancers and I am pleased to announce that from our own clan of dance enthusiasts from the region of the "west side" we had two new friends brave the dance floor for the first time, and they came away with fond memories and with eager anticipation to return.

We of the west side salute you sir!

Mr. Jonathan "The Russian" Sloma
------------------------------------------------------------------------------
Dearest Lord And Lady Scott,

Now THIS is what the season is all about -- love, peace, friendship, joy, and uplifting others. I wish I could've danced with every beautiful lady in the room! I think I came close. While I thoroughly enjoy every We Make History ball, I noticed this time I felt a warmth inside of me I hadn't felt in a long time. Or perhaps I just let my happiness overcome me... leaving people to wonder why I dance an allemande left and right with my free hand raised.

And the caroling -- another Miracle Moment.

To you and the entire WMH family -- thank you so much for bringing such happiness into my life and the lives of all those around you.
May God Bless Each And Every One Of You!

In Christ,
Your Friend And Humble Servant,
Pvt. Christopher F.
1st Virginia Volunteer Infantry
-----------------------------------------------------------------------------------
Greetings Lord Scott:
Once again the Christmas Season fills the air, as we celebrate with song and dance. I cannot thank you enough for all of the hard work you and your family put into these balls. I really enjoyed the sounds of carolers echoing in the room as we reflect upon the miracle that took place so long ago. Thank you once again and I look forward to seeing you and your family soon
God Bless,
Josh S.
Psalms 149:3
Let them praise his name with dancing and make music to him with tambourine and harp.
-------------------------------------------------------------------
Dear Lord Scott,

First off: I had the most amazing time at your Victorian Christmas Ball! I definitely look forward to attending next year.
Second off: The hedgehog fact was true : ) and next year I'll be back with an even better fact, and Christmas memory. Ha Ha! : ) : ) : )
Third off: I would like to name off all of the most memorable events that happened that night The dances were really fun! I felt as if I were practically in the Victorian era..... I absolutely loved the caroling. The young lady that you called up to sing one of the carols had an amazing voice! All together I had an amazing time! May the holidays bring you and your family joy!

Your Westside friend,
Kailey B. of Litchfield Park
-----------------------------------------------------------------------
Hello!

I just wanted to let you know that, as usual, we enjoyed ourselves at the Ball. :-)

Hedgehogs...

The amusing moment stuck in my head, I couldn't resist looking it up after returning home.

Much to my surprise, I found a teaser on the internet in the Milford Historian newsletter and after a good bit of poking around, I found a few more academic sources mentioning the idea, which I traced back to a book published in 1883.
It being an antique book, I wasn't able to obtain a copy, but a number of others cited it, so I imagine it's quite probable to expect it is in fact as cited.

Shirley Foster Murphy, vice-president of the (then) Royal Sanitary Institute (in London), in the book she edited; "Our Homes, and How to Make Them Healthy", apparently recommend that one keep a Hedgehog in the Kitchen, in order to keep down the amount of bugs, insects, and food scraps laying around.

... and in England, the Kitchen was often located in the basement. :-)

Well, there we have it! Hedgehogs in the Basement!!

Take care and God bless!

Sincerely,

--Mathew E.
------------------------------------------------------------------------------------
Dear Lord Scott,
I want to thank you again for another wonderful Christmas Ball. My wife and I, and our children in attendance had a wonderful time as we kindled new friendships, renewed old ones, and regaled in the sites and sounds of Christmas. What a beautiful cast that was in attendance last night as we celebrated the season of the birth of our Lord; the dancing was divine, the fellowship heavenly, and the singing angelic.
I must say that if the 1st Virginia is any indication of the rest of the troops in the south we may be in trouble. They must have been well trained by their Sgt. to show such poise when called upon to perform in the face of adversity.
May you and your family have a very Merry Christmas and a Happy New Year.
Yours Truly,
Gen. George Armstrong Custer
------------------------------------------------------------------------------------
Joyful And Triumphant
What is this feeling? The spirit of Christmas, the way it should be, as celebrated by the family of We Make History.

From the journal of Pvt. Francis of the 1st Virginia Volunteer Infantry

"Are you seeking a partner for a dance?" inquires the Confederate soldier of a young lady in front of him.

"No," she says.

He is puzzled. She certainly looks like she is seeking somebody amid the crowded ballroom floor, swirling with the festive colors of Christmas-themed gowns and tailcoats and fellow recruits in their dress uniforms. Perhaps he has heard it wrong in the din of the bustle and laughter of couples forming lines. And if she is not seeking a partner, why is she still standing there before him?

"You were not seeking a partner?" the soldier clarifies.

"Oh, no, I wasn't attached to one," she adds in a hurry.

Relieved, the soldier escorts her to a forming set, apologizing for any misunderstanding, which she accepts with a smile.
At this festive Victorian celebration, the ballroom is a living scrapbook to him, the many faces of friends eliciting memory after memory of moments on the battlefield or the dance floor -- men he fought with, ladies he danced with. A warmth possesses him, stronger than he has felt in many months, and it affixes a smile upon his face even through the most breathtaking dances. He wishes to cavort with every lady in the room, even though he knows it is impossible. But he can try.

The venue is almost too small at times to contain the lines of dancers, either circling around or lining up in sets. Couples pass back and forth among themselves, guided by call, swinging each other and sashaying down the lines to ubiquitous clapping and stomping. The spirited recruit skips about his dancing companion, and one could draw a straight line between their eyes and hearts. He bows often to her as a flourishing touch, catching a smile every now and then until the music ceases and he praises her.

"Thank you so much for a wonderful dance!" he compliments with a bow more apropos to the 18th Century than 19th. "You did that beautifully." He turns to the other couples in the set with bows. "All of you did."

In an exhaustive state of bliss, ladies fan themselves, and still they are ready for a waltz.

A lady in a red gown and bonnet approaches the merrily winded Confederate. To his surprise and delight, she asks him for a waltz, which he accepts with another courtly bow.

Some couples tread lightly. Others twirl in ballroom ecstasy, leading each other as forerunners of Fred and Ginger in another place and time.

"I'll keep it simple," the gentleman soldier says, admitting his pedestrian waltzing ability. It gnaws in him, this inability to sweep a lady off her feet, as they say. But the kind and gentle lady minds not a bit in the moment of simple grace, and she asks him for another dance before the evening is through.

"You have my word, ma'am," the recruit says, his Virginia drawl a soothing cloak of reassurance. "I keep my word."

He does, on the very next set dance, not wanting to be distracted with all the beauty surrounding him.
* * *
The ladies and gentlemen of the 1st Virginia Volunteer Infantry stand about, relaxing and socializing between dances and eagerly anticipating the holidays.

The young ladies voice their anticipation. "Christmas is my favorite time of the year!"

"Caroling, beautiful decorations, so much joy. There's no other season quite like it."

"And Christmas is finally here!"

The talk turns to a Ladies' Chorale fundraiser to procure medical supplies for the troops. But what do the Virginia gentlemen have to offer?

"What would there be to prevent you and these other fine gentlemen from giving it a go?" a lady asks.

The enthusiastic private cautions her: "No doubt your intentions are the best, but I'm afraid after hearing some of us gentlemen sing that it might be the audience would require the medical supplies!"

Encouraged on, the recruits agree, if the ladies can endure it.

"God rest ye merry gentlemen, let nothing you dismay,
Remember Christ our Saviour was born on Christmas Day,
To save us all from Satan's power when we were gone astray,
O tidings of comfort and joy, comfort and joy,
O tidings of comfort and joy..."

The Virginia ladies reward them with applause, but now the challenge is offered. "Let us see if you might be able to top that."

It takes only one of them top that -- a young Miss Fox.

"Once in royal Davids city,
Stood a lowly cattle shed,
Where a mother laid her Baby,
In a manger for His bed:
Mary was that mother mild,
Jesus Christ her little Child..."

Her solo voice is a candle in the night, a glowing light of beauty in the darkness, enhanced by the cavernous heights of the ballroom to an ethereal tonality.

The 1st Virginia gentlemen add to the harmony, and later, the entire gathering joins in for a round of hymns. Merely calling them Christmas Carols would understate the peace flowing through each word lifted up and echoing forth from every corner of the room, deep into the hearts of the assembled.

"O Come, all ye faithful,
Joyful and triumphant,
O come ye, O come ye to Bethlehem;
Come and behold him
Born the King of angels;
O Come, let us adore Him,
O Come, let us adore Him,
O Come, let us adore Him,
Christ The Lord!"

"Isn't this a little of what Heaven will be like," the host notes of the singing and worshiping together.

And once again, it happens. The gentlemen recruit finds his eyes misty with tears of Thanksgiving, overcome with joy but puzzled at why it always manifests itself in this way... wishing he could halt time in its march.
* * *
"Gentlemen, about face!"

The recruits and civilians turn away from the ladies as they remove one shoe each and toss the footwear in the center of the room. Before the imminent charge, their commander warns them of the dangerous task before them. And if anyone is slow...

"Shoot him!" a soldier cries from the rear rank.

Gentlemen pounce on the shoes like mongrels over scraps, save for the Confederate recruit, who has devised his own strategy. As fingers fly over laces and heels, he gracefully steps into the pile, plucks a neglected Capezio, and steps out again, holding the prize high above him to locate its owner, his partner for the next dance. She slips it on before he can offer to fit it himself.

Less is more, the gentleman soldier concludes as he and his beautiful dancing partner begin another set dance, one with only four other couples. They have space to move and flow their steps together.

A few dances later, he lets the rhythm of a waltz flow through him with a woman in a blue colonial gown. When he saw her, his mind flashed back to another waltz he shared with her at the beginning of the year -- his remedy to seeing the heartbreaking sight of her dancing by herself.

Now he delights in a circle mixer, stately balancing his partner back and forth and changing places with her, doing the same with his neighbor, and then repeating it all the way around before forming left- and right-handed stars: one hand joined to the others, the other hand raised in the air as he steps to the majesty of three quarter time. The others follow his example and raise their free hands as well.

"That's it!" the gentleman soldier encourages. "Be joyous!"

A young lad offers him a question: "In the stars, why do you raise your other hand?"

"My heart is all in the dance," he explains, adding that it is a little bit of 18th Century flourish he is pulling forward into the 19th Century.

Stateliness and flourish dissolve as the recruit finds himself in a predicament -- bumbling in the middle of a beloved Virginia Reel.

His set, lined with the finest ladies and gentlemen of the 1st Virginia, gets behind the call, and now their moves are out of line with the caller. His setmates call one move. The host calls another.

What on earth am I supposed to do? the soldier frets. What is going on here? This is our commander calling us here! Is this the Virginia Reel or the Arizona Reel?

But rebels will be rebels on this dance, and so the set continues on its own course, separate from the caller but eventually catching up. The recruit hopes he and his partner will be top couple once again to atone for his mistakes, but instead, everything progresses into vigorous swinging and turning at the command of the caller.

A few couples hurry back into set position, desiring more, looking longingly at the host, hoping for a few more iterations. The dance has lasted barely ten minutes, hardly breaking a sweat for the hardy 1st Virginia! Unfortunately for them and the fretful private, this is all the reeling for the night. Atonement will have to wait.
* * *
"You have not danced with me yet all night," a young lady informs the Virginia private on the next to the last dance of the festivities.

Good grief, the recruit wonders, has she been longing for me to dance with her all night -- or longer?

He bows to her in acceptance. "Well, let me rectify this situation right now!" His dance with her is short lived, however, as another circle mixer follows with frequent partner changes.

Time allows for one more slow waltz with another young lady, one who admits she does not know how to waltz very well.

"Not to worry," the recruit reassures her, "I am not a great waltzer."

She opens up to him, telling him of a time at a wedding when she felt disappointed in her dancing ability. The recruits heart sinks as she relates a story to him of pressure to dance well. He keeps his steps simple, remembering what he has told another waltzing companion earlier in the evening:

"We are all full of grace."

More pictures, more joy, more words of warmth and appreciation may be found above.

COMING IN JANUARY: The Realm Of The Merry
Please also see our "Etiquette & Expectations" page as well as our "All About Us" page.