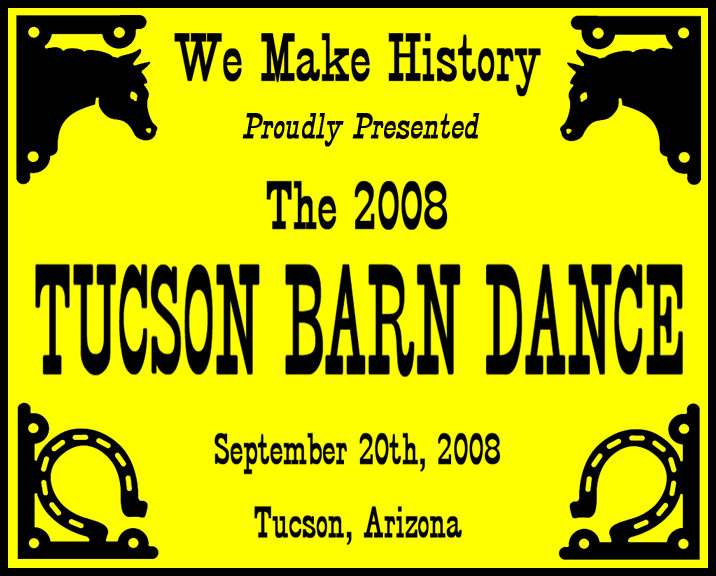 The Friendly Family of We Make History gathered and enjoyed our second annual celebration of America's Western & Rural Heritage - The Tucson Barn Dance!
Seven Arizona Counties were represented as folks from Tucson, Phoenix, Flagstaff, Prescott, Bisbee and Thatcher joined with others from small towns and country seats in polishing boots, hitching buggies and journeying to the pleasant Ironwood forests of Tanque Verde for an evening of fiddling, fancy stepping and smiles as wide as a western prairie!
Our ancestors would have understood our joy. After all, there were few things that Americans of the 19th century liked better than dancing. Pioneers, soldiers, farmers, politicians, ministers and indeed all sorts of people wrote in diaries, letters and published articles regarding attending dances. Of course good dancing is a very joyful experience. As our forbears realized, dancing positively engages the mind, exercises the body and has a wonderful tonic effect on the soul. But there was much more than just the pleasure of dancing to attract participants. With no radio or CDs available, dances were an opportunity to hear and enjoy music. With no telephones or email available dances provided an opportunity to socialize, communicate and share news with others. With high cultural expectations of behavior, dances were especially an opportunity to polish one's manners and develop the social skills expected of those in "decent company".
While the formal "Grand Ball" may have been the height of the 19th century dance experience, people from throughout the social spectrum also enjoyed dancing in less elegant settings and less ostentatious circumstances.

On prairies and plantations, in parlors and presidios, rural Americans of all sections and classes enjoyed any opportunity to do some lively stepping.

From Atlantic to Pacific and The Great Lakes to the Gulf Coast, they reeled and promenaded at soirees, shivarees, stomps, hoe-downs, corn-huskings, fandangos, harvest balls, barn dances, county fairs, birthday parties, wedding receptions, patriotic gatherings and church socials to tunes like "Soldier's Joy", "Jefferson & Liberty", "Bonaparte Crossing The Rhine" or "Cotton Eyed Joe".

Often no more than a single experienced fiddler was required but a good 3 or 4 piece string band could draw folks in from miles around. Some came on foot or straddling the back of a mule while others pranced on racehorses, rolled up in carriages or arrived perched in fashionable buggies. Some wore their homespun "Sunday best" while others wore silken "store bought" goods. Some came from busy, growing towns while others traveled from distant frontier homesteads.
It may have been a New England Church Social, an Appalachian Wedding, a Carolina Soiree, a Kentucky Hoe-Down, a Nebraska Corn Huskin' Party, a Texas Fandango, a Prairie Harvest Dance or a Louisiana Cajun' Stomp.
It might even have been a Tucson Barn Dance!
But wherever it was or whatever it might have been called - one could be sure of warm smiles, friendly faces, a well-tuned fiddle and some fine lively dancing!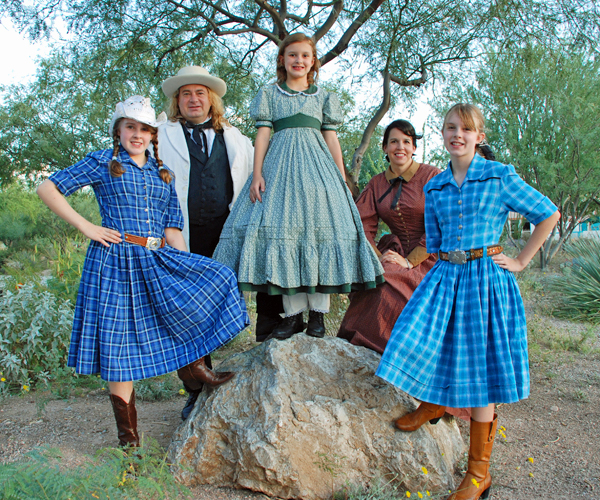 Your Hosts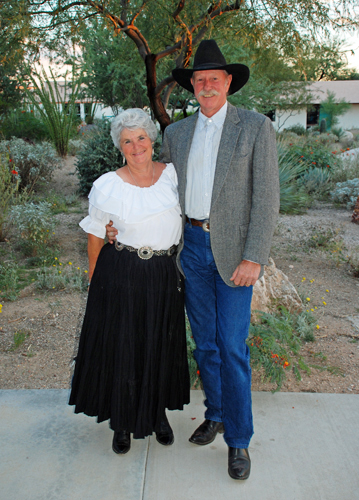 The American Heritage Festival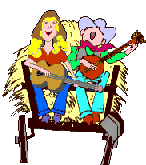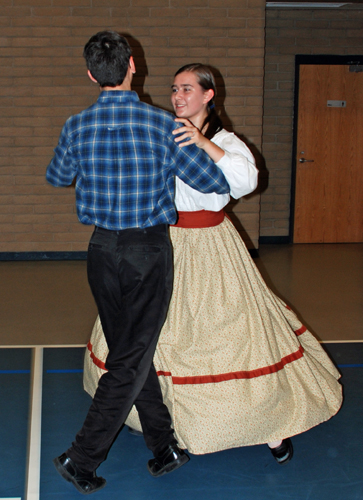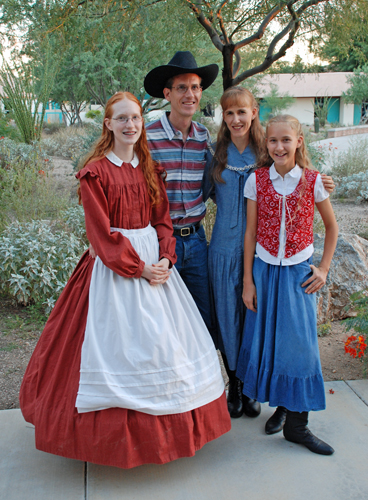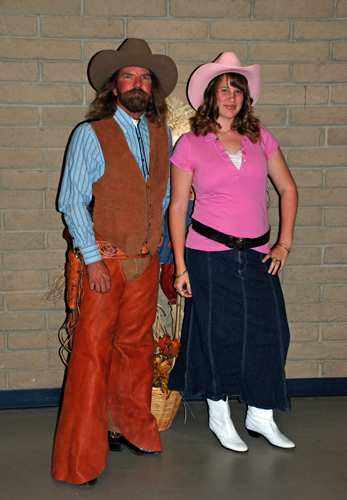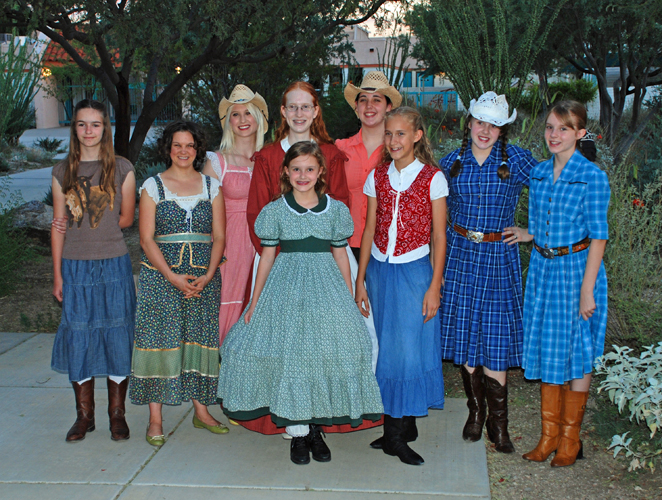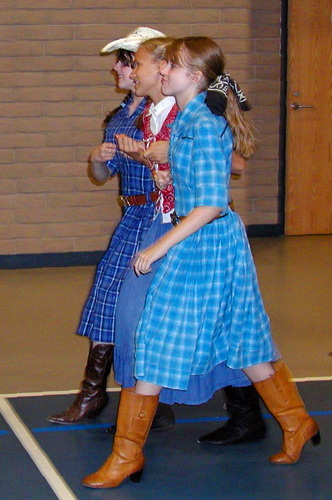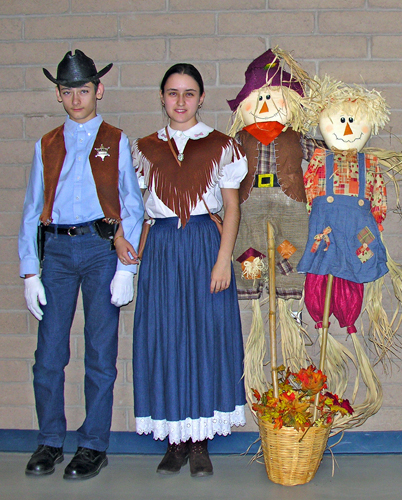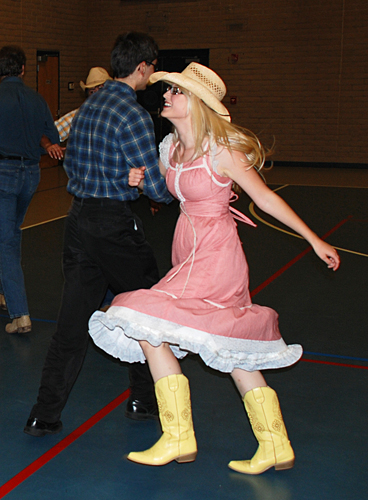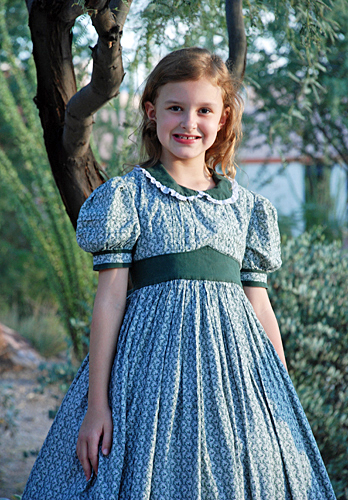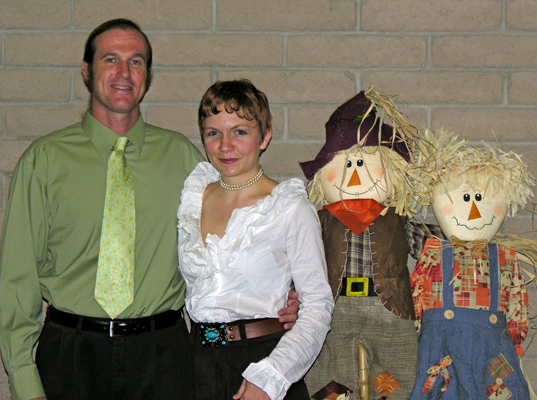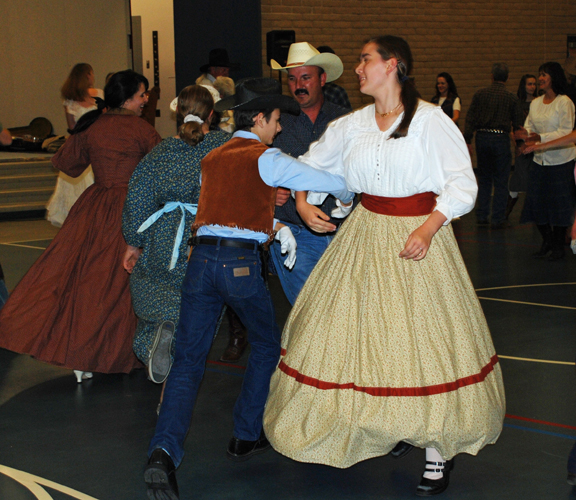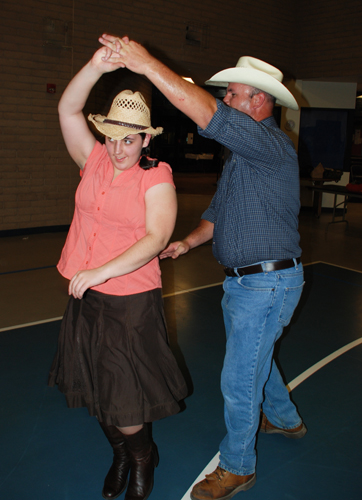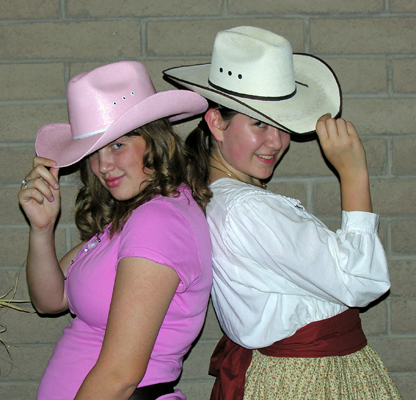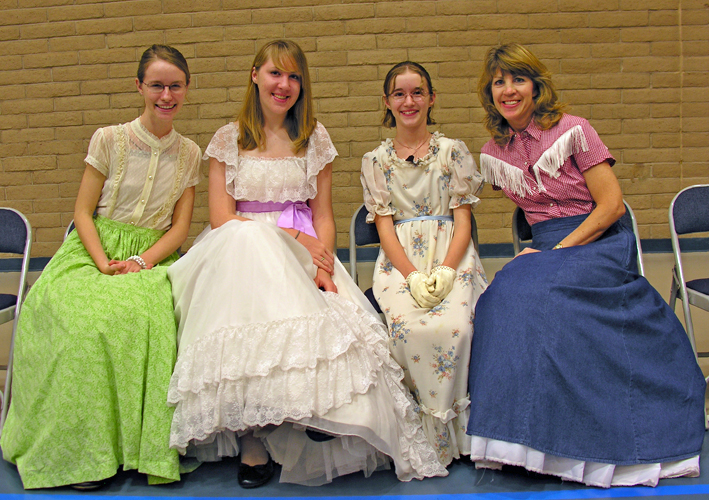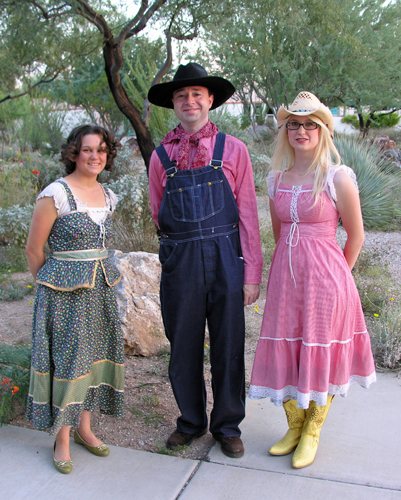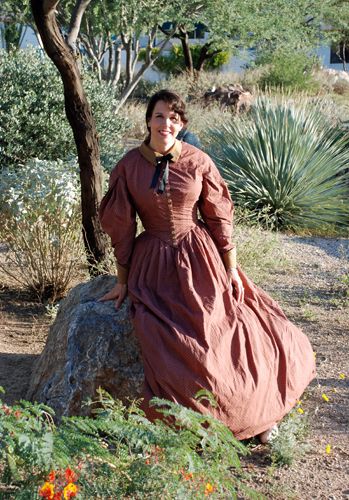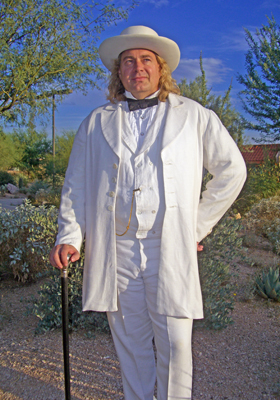 Y'all come out and see us again next year...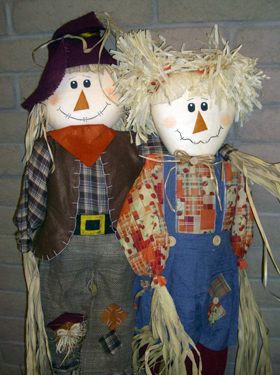 Charlie & Sally say "Hey!"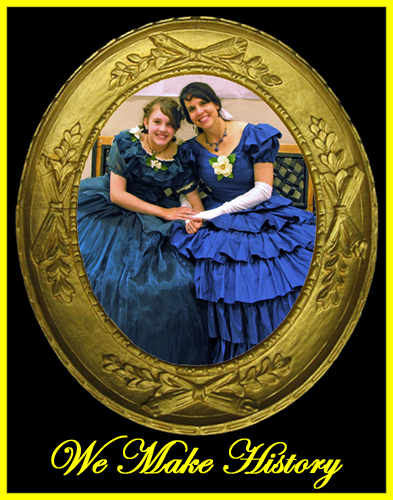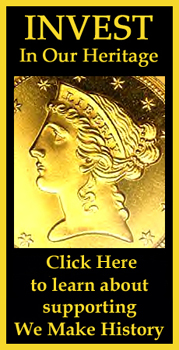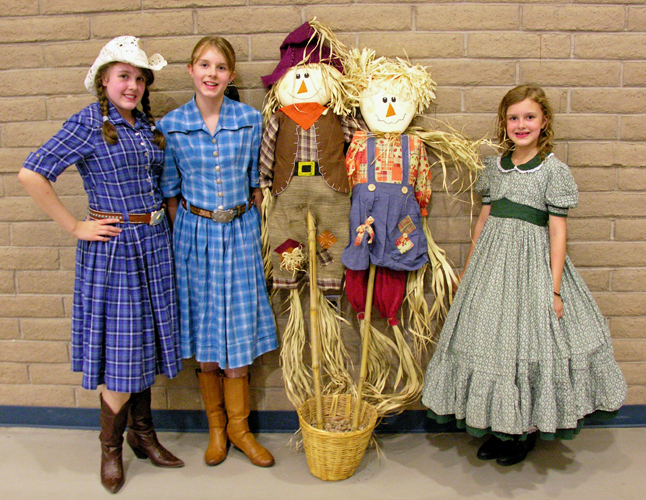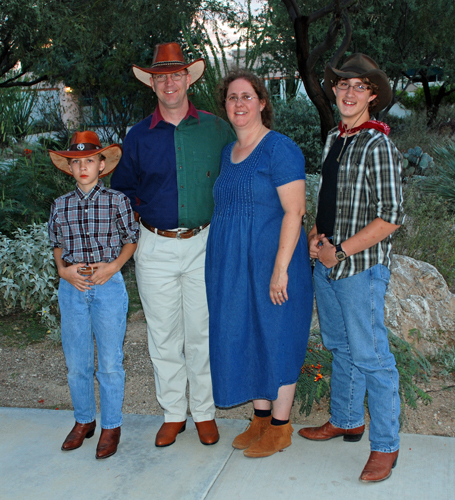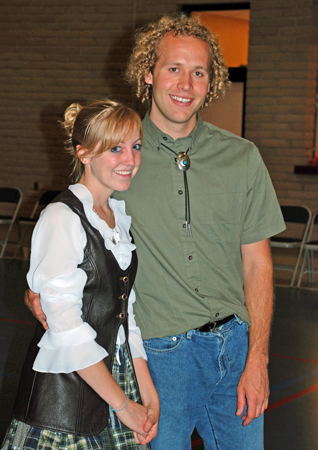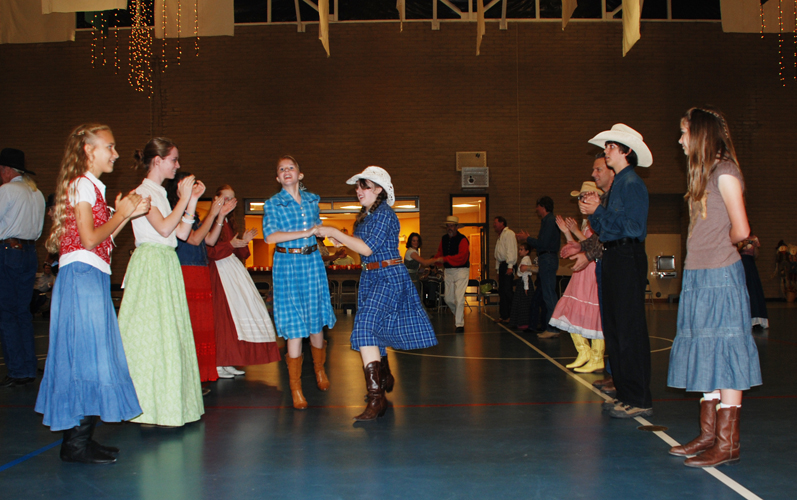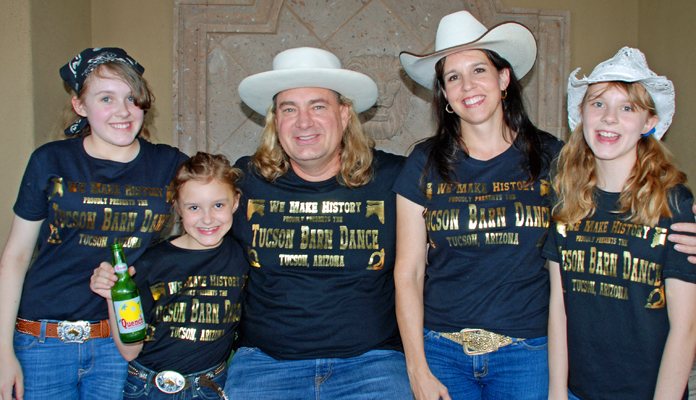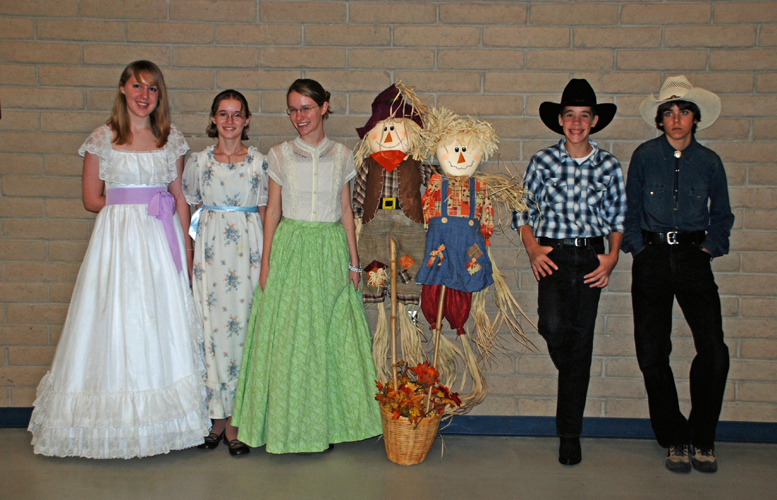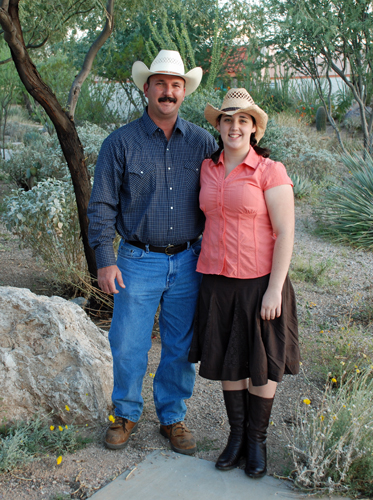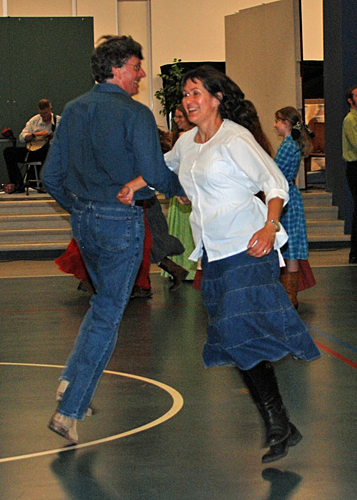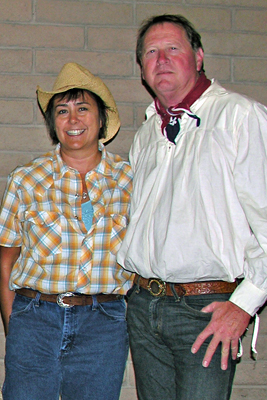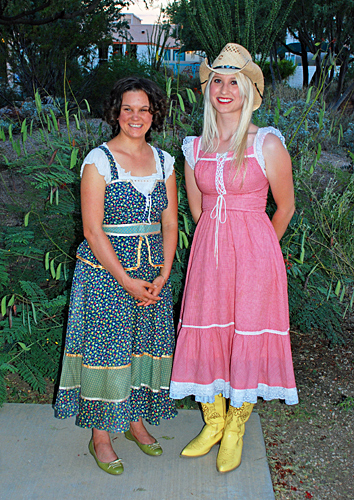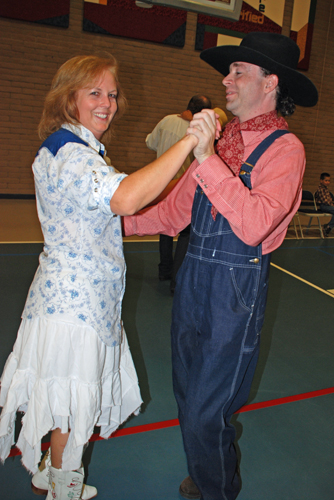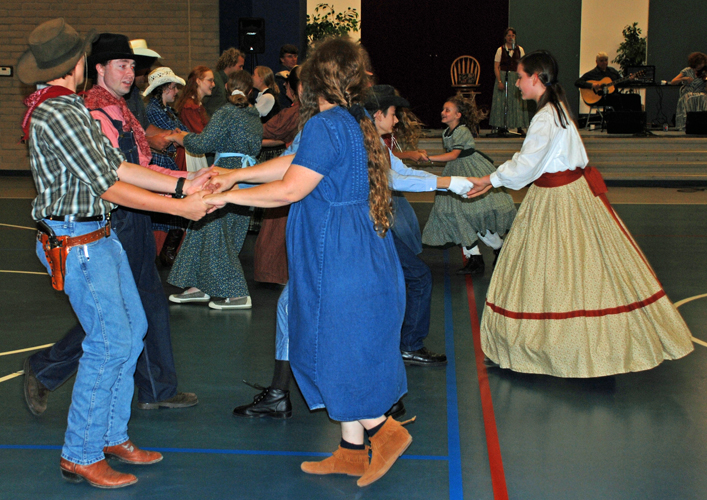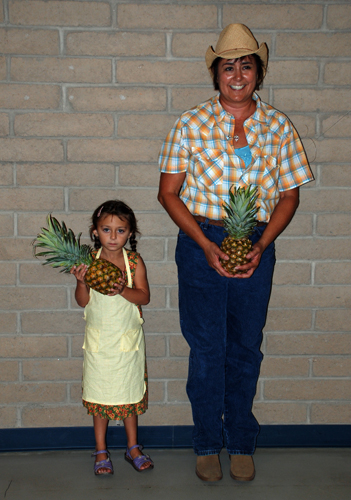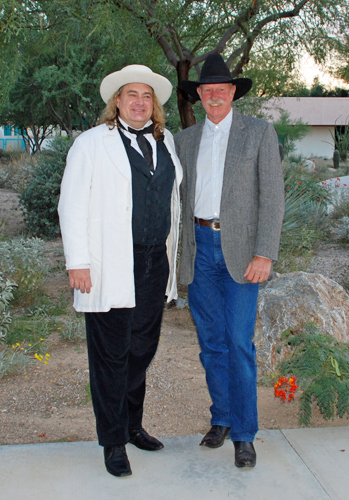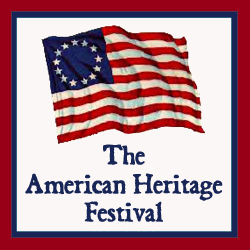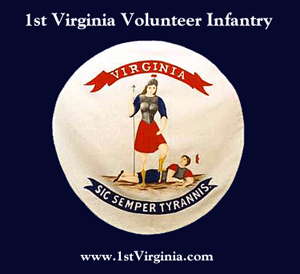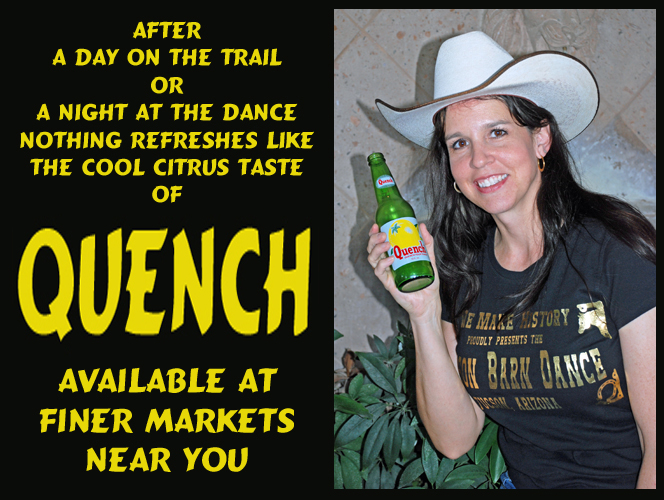 Special Delivery: by Pony Express from The Tucson Barn Dance
Howdy all.
Nice evenin' Ladies. How y'all doin' Gents?
Well, I must say that things have been mighty fine out here in The West.
This year's Tucson Barn Dance was surely a happy occasion - a real hoot to use a local phrase.
Good, solid folks came from seven counties spread out across the whole territory of Arizona. Not only Pima County but also Cochise County, Graham County, Pinal County, Maricopa County, Yavapai County and Coconino County were all represented in fine western style.
From the ranches and farms of southern Arizona they came, as well as city-slickers from Phoenix, miners down from Prescott and lumberjacks from all the way up north in Flagstaff.
The fiddle was quick, the dancin' light and lively and the smiles as wide as the western prairies.
"Swing that gal from Arkansas!" shouted the dance mistress - and everyone did just that - even if the gal was from some other place than Arkansas!
"Swing your Partner." "Now swing someone else." "Swing someone from another set!" Now swing two or three!" "FREE FOR ALL!" were the commands which climaxed our Arizona version of the Virginia Reel.
Whew! That shor' were somethin' weren't it?
I aint heard such a shoutin' an' ruckus since Vicksburg back in '63!
Pistol Pete was dancin' with Mustang Sally. Cochise was a swingin' Sacagawea. Buffalo Bill sashayed Annie Oakley right on down the set. All in all 'twas a sight ta' behold, I tell ya what.
After a few hours of shut-eye we went to Sunday meetin' and then repaired to AJ's for some good BBQ - and of course cool bottles of tasty QUENCH. "It's refreshing!"
Well, I'll close for now.
But do plan on takin' the overland stage and joinin' us next year for the 2009 Tucson Barn Dance. Ya won't be sorry ya did!
Vaya con Dios.
Your friend & pard ...
Col. Scott
Please also see our "Etiquette & Expectations" page as well as our "All About Us" page.
This page is best viewed at an aspect ratio of 16:9 and a screen resolution of 1920 x 1200. Text and objects will appear larger at lesser resolutions.
This page, all attached pages, the entire site and all content are the property of We Make History © 2001-2008. All rights reserved.
No copying or reproduction of any kind is allowed without express written permission.