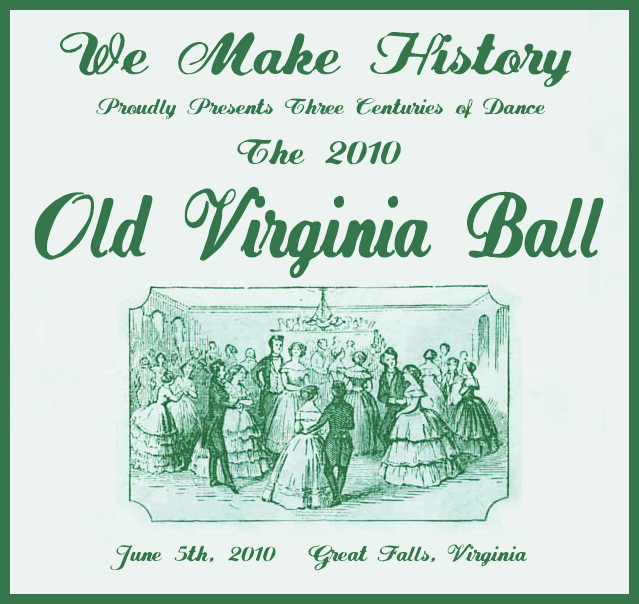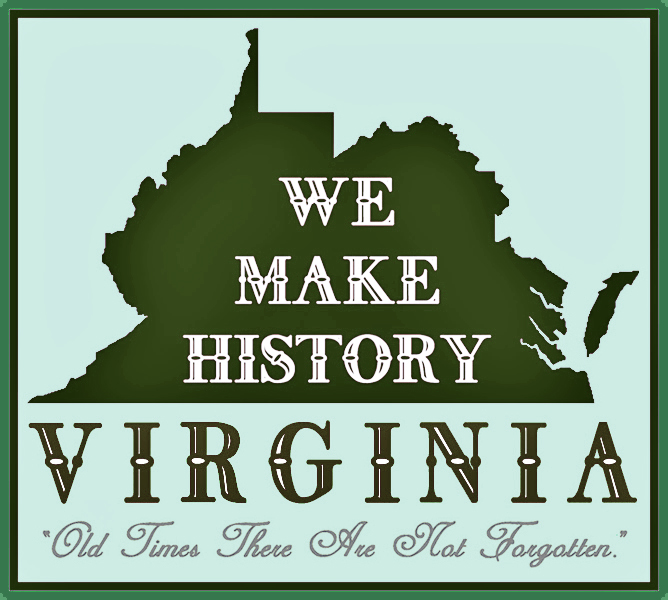 The Old Virginia Ball
Virginia, the birthplace of America!
With a centuries' old tradition of friendly hospitality is it any wonder then that "The Old Dominion" as she is fondly known has a longstanding reputation among her sister states as the leader in grace, manners, hospitality and gentility?
At the 2010 Old Virginia Ball the friendly family of We Make History Virginia stepped back in time to travel a colourful path together, exploring the music, dance and fashions of the 17th, 18th and 19th centuries as well as manners, expectations and cameo moments from history.
Historic fashions as per any of the following eras ranging from 1607-1865 were welcome as were modern evening and business attire.
Jamestown and Early Virginia 1607-1699: Virginia's first century was during the reign of the House of Stuart. Think of the Jacobean era, the English Civil War and the Restoration and early Baroque Periods.
Williamsburg, Colonial Virginia & The American Revolution 1700s: Virginia grew, prospered and fought for Independence. Think of Georgian fashions; ornate gowns, wigs, tricorn hats and buckled shoes.
The Regency or Federal Period 1795-1825: Known to the English as "Regency" to the French as "Empire" and to Americans as "Federal" this period saw long, high-waited gowns for ladies and the advent of tailcoats and top hats for men. During this period, four of the first five Presidents of the United States came from Virginia!
The Antebellum Period and The War Between the States 1850-1865: Hoopskirts were the rage as ladies glided past in mounds of silk past bowing gentlemen with a sense of chivalry, determined if necessary to defend Virginia and Virginia's ladies against near-impossible odds.
Send us a note here to begin receiving Virginia related We Make History updates!
The 2010 Old Virginia Ball Gallery of Portraits

Historic Fashion Links (Click on any picture.)
We Make History Links
The We Make History Main Page We Make History Virginia Learn More about We Make History Historic Support Etiquette & Expectations Historic Portrayals
The 1st Virginia Infantry - Recruiting Now! The 150th Anniversary Reenactments of the Civil War - Get Involved!
Letters from Old Virginia
Dear friends,
It is hard to believe that The Old Virginia Ball is now over two weeks in the past.
How time does fly.
Closing my eyes, all the sights and sounds of the magnificent evening kept in fine company seem close enough to grasp!
What a fine evening it was!
Celebrating three hundred years of music, dance, fashion and culture with you - the family of We Make History Virginia - makes for time well spent indeed.
It is wonderful how friendships have developed and how our gatherings have gradually reached beyond Northern Virginia (NOVA in the local dialect) to include more persons from Maryland, DC and further down into Virginia as well. Seeing families from many places enjoying the arts together in a positive and uplifting environment is something that I never seem to tire of. :o)
Several of you were kind enough to share with us personally how you and your families have been blessed and encouraged in being involved in We Make History Virginia. Perhaps you could write to us and share your thoughts. We find such letters to be uplifting ourselves!
It is our expectation to return this Fall for another historic Ball and there is much more on the horizon as well. Perhaps the following might serve to whet your appetite...
2010 Fall
1) We expect to return for another historic Ball in Northern Virginia.
2) We expect to conduct training for persons desiring to be involved in the 150th anniversary Battle of Manassas which will take place in July 2011. (We'll be training men of all ages for this important event. Let us know if interested!)
3) We may hold an additional historic Ball in another part of Virginia as well.
2011 Spring/Summer
It is our hope to spend significant time in the area and conduct reenactor training, fashion and etiquette workshops, do historic portrayals, play an important role in the Manassas Sesquicentennial - and of course hold more historic Balls!
Regarding our Northern Virginia friends, here is a poll.
Would you like to see our next historic Ball...
... at the Grange in Great Falls again...
... at a church in Purcellville (there are a couple of possibilities) ...
... back at the historic skating rink in Purcellville (if it is restored in time) ...
We welcome your input and will share details when we have them!
Oh yes,
I believe there was some interest in seeing photos and artwork from the 2010 Old Virginia Ball. :o)
You may do so here.
Come & welcome!
Your humble servant
in a noble cause...
Lord Scott
of
We Make History
----------------------------------------------------------------------------
Dear Lord Scott,
You are filling a gap in what I think is the experience of most of my peers, as well as myself. We need opportunities to learn how to act with courtesy, modesty and respect towards one another; and as I said to you in person, thank you for initiating these historic balls and for being the driving force behind them.

I am deeply grateful for the expressions of courtesy you taught us, for the opportunity you gave us to practice those expressions, and for the welcoming and gracious atmosphere you provided. The Virginia Balls have been a unique and wonderful opportunity for myself and many others. My feelings are ineffable; I can only give you my sincerest thanks.

Stand fast.
A Friend.
------------------------------------------------------------------
Please also see our "Etiquette & Expectations" page as well as our "All About Us" page.
This page is best viewed at an aspect ratio of 16:9 and a screen resolution of 1920 x 1200. Text and objects will appear larger at lesser resolutions.
© 2010 We Make History
All rights are reserved. No copying or distribution without express written permission.