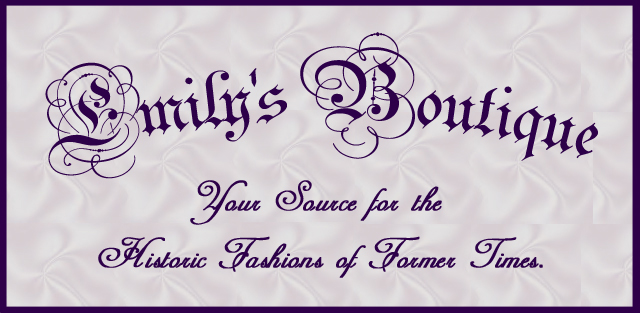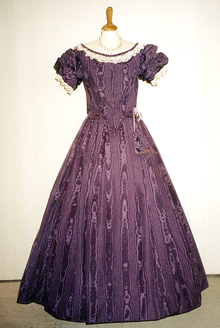 We are particularly well known for our Civil War era Ball Gowns. Made from unusually fine brocades or moires, we have custom-made and shipped these gowns all over the country. If you are in need of a gown for a Civil War Ball, Victorian soiree or historically themed Prom or Wedding one of our gowns will set you apart as an elegant lady of taste and distinction!
Emily's Boutique is also your supplier of Regency era gowns. These dresses are a must for Jane Austen, Pride & Prejudice and Napoleonic enthusiasts and are also the right style ("period correct") for those associated with the bicentennial of Lewis & Clark's expedition, Jefferson's presidency and the War of 1812.
Examples of our Civil War / Victorian Gowns are above. Examples of our Regency Gowns are below.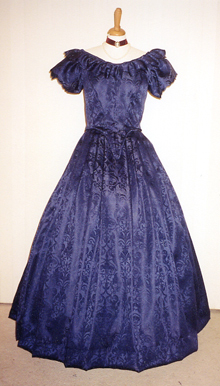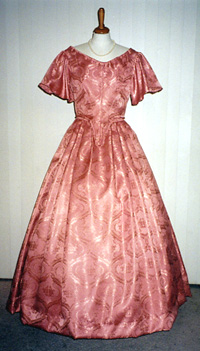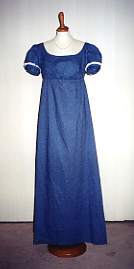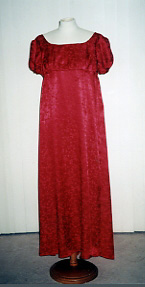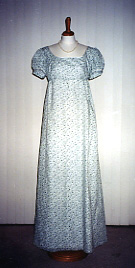 Support and undergarments such as corsets, stays, hoopskirts, panniers, pantalets, shifts and chemises were all necessary to historic ladies of the Georgian / Colonial, Regency and Civil War / Victorian eras.
It is impossible to achieve a historically accurate look without the proper corset or stays for your time period. Historic clothing was designed with the assumption that a corset would be worn as all ladies did so. Your posture and the fit of your clothing won't be right without one. A proper corset will make the difference between looking like a princess who has stepped out of an historic painting or looking like someone on their way to a modern costume party.
Welcome to
Emily's Boutique!
We are your source for the historic fashions of former times, supplying historic reproduction gowns, stays, corsets and undergarments for classically conscious ladies and historical reenactors who enjoy the dress of the Georgian, Colonial, Regency, Civil War and Victorian periods of the 18th & 19th centuries.
"Why shouldn't you have all the elegance of days gone by?"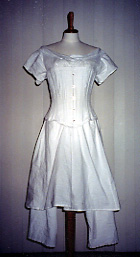 Measurements, Pricing & Ordering
Measurements
Please give us:
(A) bust size
(B) cup size
(C) waist size
(D) hip size
(E) the measurement from the nape (base) of your neck down your back to your waist
(F) the measurement from your waist to your ankles
(G) the circumference of your upper arm
(H) height
(I) weight
(J) modern dress size
If you already have a corset please take the above measurements with your corset and undergarments on. If you already have a hoopskirt or know what size hoopskirt you will be using, please let us know the circumference, i.e 120", 150", etc.
If ordering a Regency gown we also need:
(K) a measurement of the circumference of the body immediately under the bust.
(L) a measurement from just under the bust down the front to your ankles
Note: The Regency era is the one time period for which you can do a reasonable "fake" by using a push up bra instead of a corset though this only works if you are not too well endowed. If you will be wearing a push up bra in lieu of a corset please take your measurements with the bra on.
Please keep in mind that accurate measurements are necessary! If you give us "wishful" measurements rather than real measurements then your clothing may not fit properly!
Pricing
Regency Ball Gown: $150
Civil War / Victorian Ball Gown: $295
Corsets / Stays for the Georgian, Regency or Victorian eras: $245
Day dresses and undergarments such as hoopskirts, panniers, pocket hoops, pantalets, shifts and chemises are available upon request. Please
email
for information.
These are incredible prices for high-quality custom sewing backed up by many years of study and experience with historic attire! All items are constructed from historically accurate patterns and sources. The gowns are made with fabrics which are chosen for a period look. They usually come with the skirt unhemmed as your choice of undergarments will effect the length.
Ordering
(1) Please
email
to let us know which items you desire, along with your measurements, your color preferences, any questions you might have and what date (if any) by which you need the items. A recent photo of yourself can be helpful too!
(2) We will answer any questions and advise as to total due.
(3) Once we have come to agreement please send the total due plus $12 for shipping, handling and insurance to We Make History, P.O. Box 12874, Scottsdale, Arizona 85267.
Comments from Customers
"I'm just now getting the chance to write and let you know I received my ball gown and that it is, to sum it up in one word, exquisite. It's even more beautiful than I imagined. It does fit quite nicely. Now to go to another ball! Please forward this to Emily as my thank you to her for her wonderful work."
Angie, Colorado
"Dear Sir,
The ball gown (mulberry) arrived this week, and is beautiful! I appreciate the workmanship and nice fabric. I can't wait to wear it dancing. Thank you."
June, California
"I got the dress yesterday. It is lovely and fits very nicely. I love the burgundy fabric and the gold trim you picked out. Thank you so much --I appreciate it a lot."
Paula, Arizona
Emily's Boutique is proud to be associated with
"Where History & The Arts Meet"